Shop Genuine Ford Parts for Sale in Greenwich NY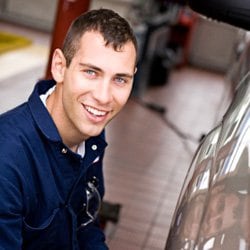 Buy Certified Auto Parts in Greenwich at Greenwich Ford
Even drivers who take excellent care of their cars and keep up with routine maintenance will eventually need to replace certain parts over time. When the time comes to replace any part of your car, drivers from Greenwich and Granville can turn to Greenwich Ford's parts center.
We're your top choice full service Ford dealer near Saratoga Springs and Stillwater, and we're here to supply you with auto parts when the time comes. Buying certified parts at Greenwich Ford will ensure your vehicle is receiving the parts it was originally designed to drive with.
We know buying cheaper auto parts from other sources can sometimes seem tempting, but lower quality auto parts often mean that they'll fail sooner than parts from Greenwich Ford. You might end up paying more money to replace those failed parts in the long term, when you could just purchase genuine parts at Greenwich Ford in the first place.
Our customers from Greenwich and Granville can order the parts and accessories they need on our website. Our parts order form is easy to fill out. Greenwich Ford customers can let us know the make, model, model year and trim of their car and the parts they need. You can order tires, brake pads, rotors, wiper blades, batteries, roof racks, automatic starters and anything in between.
Our service team is also available to expertly and professionally install any of these parts for you. Drivers throughout Granville and Saratoga Springs can schedule an appointment to have their parts installed right here at the dealership.
Find quality auto parts and the best products available for your car at Greenwich Ford. Visit us, place a parts order online or call us today to get the parts and accessories you need.