Shop Genuine Ford Parts for Sale in Greenwich NY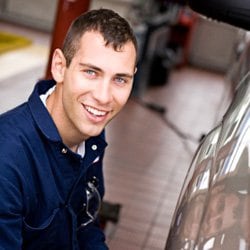 If you're planning a DIY project for your Ford vehicle, making sure that you have the correct parts for the job can be the difference between having a succeeding and failing. That's why we encourage Ford vehicle owners to choose OEM parts from our vast inventory of genuine parts and accessories. OEM parts are engineered for your specific model to ensure a perfect fit and reliable performance. Our parts experts at Greenwich Ford are ready to answer questions and help you locate the correct parts for your next repair or customization.
Discover Why Buying Your Parts from Greenwich Ford is the Way to Go
Using auto parts that are designed to fit your exact Ford is the key to longevity, which these cars are known for providing. Our service center only uses the OEM parts and accessories, and will never sell you an aftermarket part because they aren't built with the same level of quality. Instead, our team uses the parts that are designed to fit your exact model because nothing less will suffice.
Get in touch with our parts team or place your order online today!
Do you have questions about our catalog of Ford parts? Our team of parts experts is on standby and ready to answer all of your questions. If you already know exactly what parts you need, feel free to fill out the parts order form, and we'll be in touch with you when the parts are in stock.