Expert Ford Auto Service Available at Greenwich Ford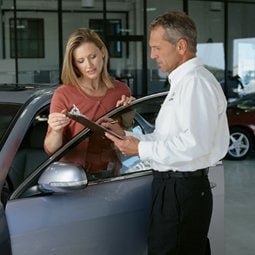 The best way to extend the longevity of your Ford Escape, F-150, F-350, F-550 Chassis or Transit-250 Cargo is to follow the manufacturer recommended service schedule. At Greenwich Ford, we offer a state-of-the-art facility, high-tech equipment, and a team of factory-trained Ford technicians. All these elements result in an efficient, high-quality service that gives your Ford model the service it needs in a timely manner. Bring your car, truck or SUV to our service center to experience the highest level of quality and convenience.
Discover Everything from Oil Changes to Complicated Repairs Near Greenwich NY
Whether it's time for scheduled maintenance or an unforeseen repair, our service team near Granville NY, Saratoga Springs and Stillwater NY is up to the task. For routine maintenance items, our service center offers oil changes, battery replacement, wheel alignments, air filter replacements, and more. By keeping up with your recommended service schedule, you can maximize your Ford Escape, F-150, F-350, F-550 Chassis or Transit-250 Cargo model's lifespan and keep it operating at peak condition. If your Ford needs major repair, then our service team has the expertise needed to return it to a like-new condition.
Contact Our Greenwich NY Service Team to Schedule Ford Service
Don't delay service for your Ford Escape, F-150, F-350, F-550 Chassis or Transit-250 Cargo until there is a noticeable issue. When you entrust your car, truck, or SUV to the experts at our service center, you can rest assured knowing that the job will done correctly. Simply contact our service team to schedule an appointment, drop off your Ford vehicle, and we will notify you when the service is complete. If you have any questions about Ford service or you aren't certain what is required, our service center can help provide the answers you're seeking.